When our computer is new it works flawlessly and works without any interruption. However, after using the system the performance of the PC drops drastically. To keep the system in a good shape we need to defrag the disk and clean it up. When your system starts performing sluggishly and you start witnessing lag in the system then it means your system needs optimization.
What is disk defragmentation?
Disk Defragmentation arranges the files in the most efficient manner which results in freeing up space on the system. Mechanical hard drives store the data in fragments and installing/uninstalling the software will make the data fragmented and in order to organize the data together is called defragmentation.
Disk defragmentation will optimize the system and will speed it up in general.
Best software for disk defragmentation:
There is different disk defragmenter software that we can use to defrag windows 10. Windows by default does come with the defragmenter software that can be used to defrag Windows.
1. Disk Speedup – By Systweak
Disk Speedup is a Windows defragmenter program; it is also a multi utility program that can also wipe out junk and repair file system issues. Disk Speedup is a simple defrag software that can be used easily. Disk Speedup is compatible with Windows 10/8.1/8/7/Vista and XP (both 32 bit and 64 bit)
Disk Speedup defrags your hard drive easily and in no time and enhances your system performance.
Product Features:
Easy to use software for quick scan
Remove junk files and recovers disk space
Safely performs the operations so that no problem can occur
Improved Hard Drive performance for faster access to your data and enhanced speed and system performance
Disk Speedup defrags internal or external mechanical hard drives
Simple and cheap Disk Defragmentation software with money-back guarantee
Schedule automatic optimization & clean-up on daily, weekly or monthly basis
Compatible with Windows 10/8.1/8/7/Vista and XP (both 32 bit and 64 bit)
All in one utility for clean-up, defrag, and performance enhancement
Special tool that can detect duplicate files and sort them.
Helps in increasing boot time of system by defragmenting the disk
How to use Disk Speedup:
First download and Install Disk Speedup. Once installed run the program now select the drive that you want to defragment and then click on Start Scan Now.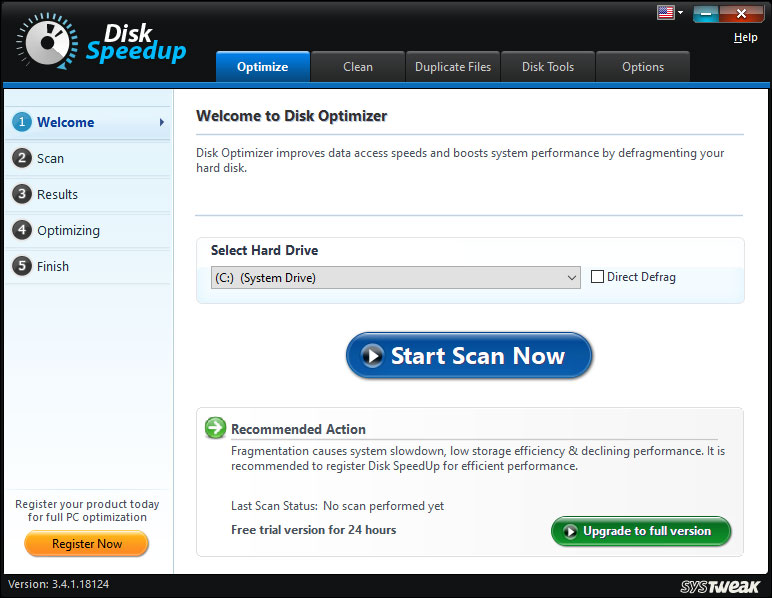 Disk Speedup is a simple to use software that is one of the best defrag software you can find on the internet. Using this software will also detect and remove duplicate files from the system. This software also contains disk tools software that can check your device for issues and it will also show all the information about your system.
Note: It is paid software.
2. O&O Defrag Disk Defragment Windows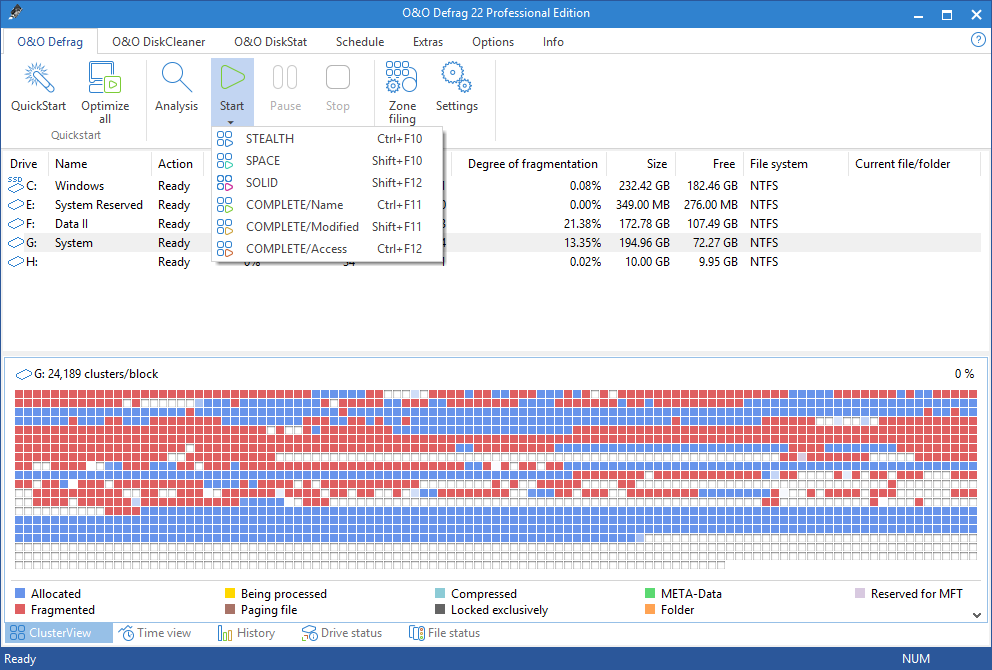 O&O Defrag is simple defragmentation software that will help you to defrag Windows 10. This software has an easy to use user-friendly interface with loads of features. This program also helps you to optimize your Hard Drive, check the errors on drive, and you can also see a list of all the fragmented files. This simple disk defrag software also lets you schedule the defragging process that can be customized so that it will not run if defragging is not needed.
We can also set the program to run when the screensaver gets active on the system. You can also check details of your hard drive and it will also suggest actions. This program also lets you schedule the process using a configuration wizard or you can start the process immediately.
Product Features:
40% reduction in time taken for defragmentation process
This program uses new method of defragmentation called SOLID
Defragmentation method is hardware friendly can be used on Hard Disk and SSD both
You can get the graphical representation of Hard Drive by clicking on O&O Disk stat
O&O Defrag Server Edition supports: Windows® 10 | 8.1 | 8 | 7 | Server 2008 R2 | Server 2008 | Server 2012 | Server 2012 R2 | Server 2016 | Server 2019
Using this simple program, you can remove Temporary and Unnecessary Files
This program uses fragment filter to detect Most Fragmented Files
Supports Windows 10, Windows 8.1 And Windows 7
Simple to use this program can be used beginners and professionals
Time View to See Defragmentation Activity Results
Even Faster System and Program Response Rate
3. IObit Smart Defrag
Iobit Smart Defrag is simple disks defrag software with the modern user interface. This is one of the best disk defragmenter software that you can find on the internet. This program shows the drive information on the front page of the program. This program also uses the Smart Defrag process for the defragmentation process.
The new Smart Defrag process will let you to exclude files and folders from the defrag process. This simple program will help you to remove junk files from Windows and internet explorer. This program will also help you to clear cache that will result in faster processing of the system.
Product Features:
Modern User Interface
Can use this for SSD Drives
This program also includes optimization feature for games and booting process
Defragmentation process can be scheduled.
Defrag process can also be started while the system is booting up.
This program will help you to clean up the junk file before starting the defrag process
Various options to select from like shutting down the system after the process is complete.
Drives can be excluded from the defrag process.
Verdict:
Disk defragmentation is necessary after a certain amount of usage of the system. Hard drive needs to be defragmented as the data stored in it will be fragmented after a certain amount of usage. When data is fragmented windows perform sluggishly. So, to optimize the system defragmentation is necessary.
The Views and Opinions expressed in this article are the author's own and do not necessarily reflect those of this Web-Site or its agents, affiliates, officers, directors, staff, or contractors.