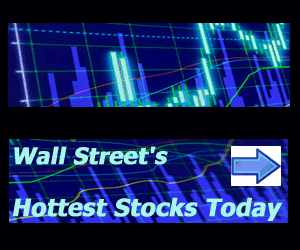 Axalta Coating Systems Ltd. (NYSE:AXTA) said after the closing bell Thursday that Porsche AG has added Cromax to its list of approved car paint repair brands, making all three of Axalta's premium global refinish brands – Cromax, Spies Hecker and Standox - authorised for use by Porsche AG dealerships and bodyshops worldwide.
Axalta manufactures, markets, and distributes high performance coatings primarily for the transportation industry.
**
Hancock Jaffe Laboratories Inc. (Nasdaq:HJLI) specializes in developing and manufacturing bioprosthetic medical devices to establish improved standards of care for treating cardiac and vascular diseases.
HJLI currently has three product candidates:
- the porcine tissue based VenoValve, which is intended to be surgically implanted in the deep venous system of the leg to treat Chronic Venue Insufficiency. HJLI said recently that it will present its application for its first-in-human trial for the VenoValve to INVIMA's (the Colombian equivalent of the U.S. FDA) Medical Device and Other Technologies Committee at its upcoming meeting this month.
- the CoreoGraft, a bovine tissue based off the shelf conduit intended to be used for coronary artery bypass surgery The company will begin a feasibility study for its CoreoGraft bioprosthetic graft on January 29th at the Texas Heart Institute. HJLI expects to have preliminary results from the study immediately after the first implantations and final results from the study at the end of March, 2019.
- a porcine tissue based heart valve, which based upon its relatively small size and increased output, is an ideal candidate for pediatric aortic/mitral valve replacement.
**
BlackBerry Limited (NYSE:BB) (TSX:BB) will report its third quarter fiscal 2019 financial results on Thursday, December 20, before the market open.
BlackBerry operates as an enterprise software and services company focused on securing and managing endpoints in the Internet of Things
**
Oracle Corp. (NYSE:ORCL) expects to release its second quarter fiscal 2019 results on Monday, December 17, after the close of the market.
Oracle Corporation develops, manufactures, markets, sells, hosts, and supports application, platform, and infrastructure solutions for information technology (IT) environments worldwide.
**
DAVIDsTEA Inc. (Nasdaq:DTEA) said that its financial results for the third quarter of fiscal 2018 will be released after market close on Thursday, December 13.
DAVIDsTEA operates as a retailer of specialty tea in Canada and the United States. The company offers approximately 135 loose-leaf teas, pre-packaged teas, tea sachets and tea-related gifts, and accessories; and food, as well as tea beverages, such as hot or iced tea, and tea lattes. It provides loose-leaf tea in white, green, oolong, black, pu'erh, mate, rooibos, and herbal tea categories.
****
Disclaimer: The disclaimer is to be read and fully understood before using our site, or joining our email list. CRWEWorld Finance is not a registered investment adviser. This material is for informational purposes only and should not be construed as an offer or solicitation of an offer to buy or sell securities. Investors should always conduct their own due diligence with any potential investment, with independent research and other professional advice. Read Full Disclaimer at www.crweworld.com/finance_disclaimer
The news, reports, views and opinions of authors (or source) expressed are their own and do not necessarily represent the views of CRWE World.